09 Nov

Thermodynamic| Solar Hot Water System Installation In Ireland

Ambisolar Ltd, an Irish partner of Infinity Innovations Ltd, who supply and install Bunsen Air| Thermodynamic Water Heating systems, this week completed a unique commercial installation on a large property in Ireland.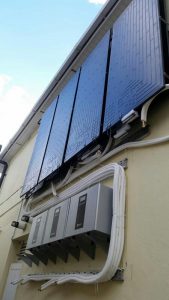 A Unique Commercial Installation
The job involved the installation of 4 Bunsen Air| Hot Water Systems on an external wall of the property, with 8 Bunsen Air| Thermodynamic Hot Water Panels connected and installed above on the same side wall
Only 4 of these solar panels can be immediately seen, as amazingly, there are in fact 8 solar collector panels that have been double stacked!
Due to internal space issues, the decision to externally mount the Bunsen Air| Hot Water Units, was to allow the systems to work most efficiently, without over stretching the specialist refrigeration pipework that connects the hot water units to their thermodynamic solar panels and hot water cylinders.
Contact Ambisolar Ltd
If you live in Ireland and would like to find out more, then Contact Ambisolar to discuss how the Bunsen Air| Hot Water System could benefit your home, and prove to be the perfect, all year round solar hot water solution.