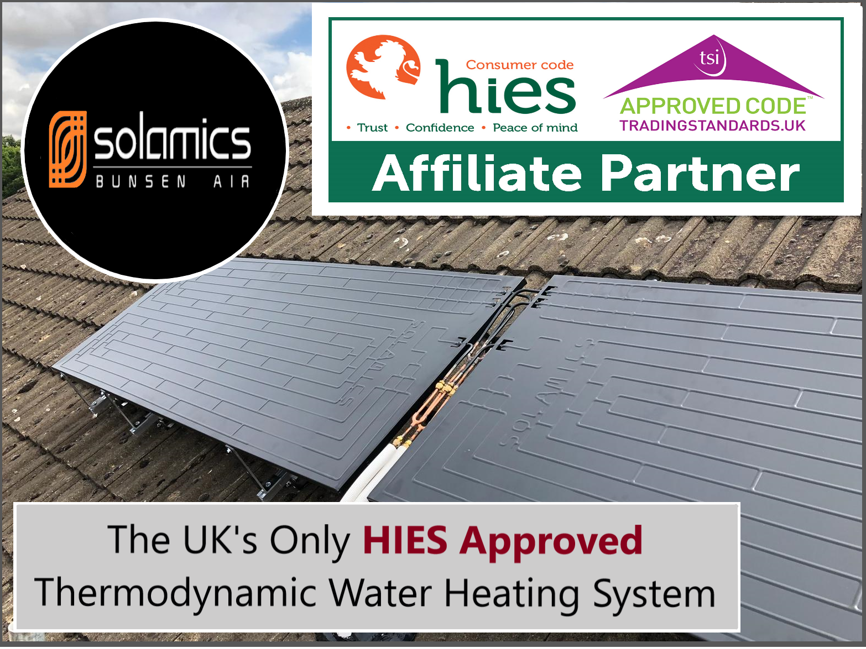 11 Oct

THE UK'S ONLY HIES APPROVED THERMODYNAMIC WATER HEATING SYSTEM

Since it's launch last year, the Bunsen Air Thermodynamic Water Heating System has fast become a favourite of solar installation companies across the UK and Ireland.

Alongside the unique features that make the system the most powerful of its kind available, the Bunsen Air's distributor, Infinity Innovations Ltd, also have an unrivalled reputation for offering outstanding technical support to installers and customers, pre and post installation.

In addition to its ERP A rating and patent pending hot water panels, the Solamics Bunsen Air is also now HEIS approved, meaning that following an external audit by an accredited body, HIES have chosen to partner with Infinity Innovations Ltd in their approval of the Solamics Bunsen Air, as a financeable product.
What does HIES approval mean for Bunsen Air Installers?
HIES Approval means that FOR THE FIRST TIME, solar energy installers and suppliers of the Bunsen Air, can offer their customers the option of finance when purchasing a solar hot water system.
With over 7000 members registered under the HIES scheme, its members, which include solar energy suppliers and heat energy installers across the UK, can offer their customers the option of finance – making the Bunsen the only system of its kind available for finance in the UK!
"We distribute these Thermodynamic Hot Water Systems to both Installers and Suppliers across the UK and Ireland. Our Nationwide Supply to Install Service, means that we can send our trained Bunsen Air installers to you – anywhere in the UK.

Our Partnership with HIES now means that members have all of these benefits – alongside for the first time ever… the option of finance. This is a huge breakthrough in domestic thermodynamic availability!"

Jake Findlay – Infinity Innovations Ltd Company Director
How your customers will benefit from purchasing a Bunsen Air under the HIES scheme
All installers registered under the HIES scheme are vetted and accredited
Free insurance backed guarantee
Access to free independent inspections
Deposit and stage payment protection
Full assurance that the HIES code of conduct has been approved by the Chartered Trading Standard Institute
If you are a solar energy supplier or heat energy installer then just get in touch with Infinity Innovations Ltd, to discuss how the Bunsen Air and financing options available through HIES membership, could benefit your customers.