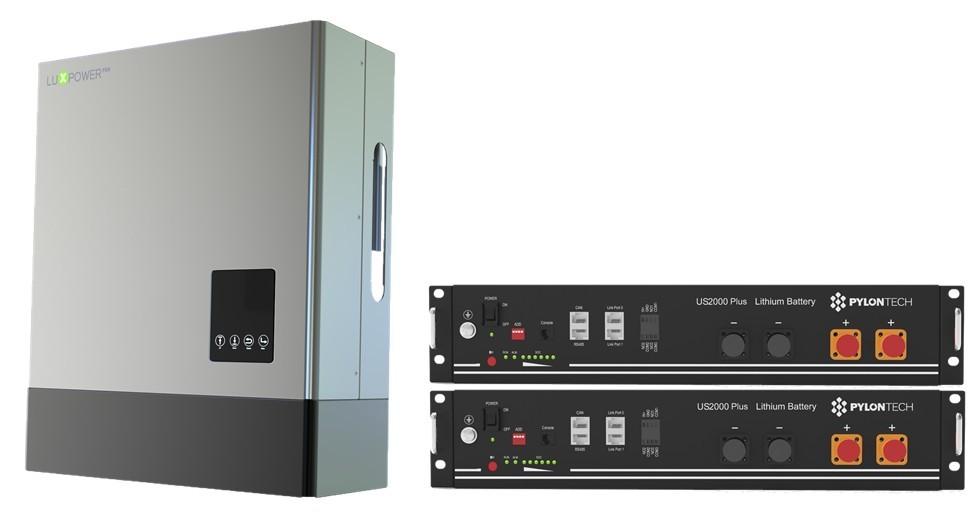 07 Jan

LUX Power Hybrid and AC Battery Storage
The Best Battery Storage in the UK, with remote upgrades and monitoring!
Infinity Innovations Ltd, already known for their advanced, ERP A rated and only HIES approved thermodynamic hot water system – The Bunsen Air | Solar Hot Water Heater, are now the only UK distributing the LUX Power | Hybrid Battery Storage system, and LUX Power | AC Battery Storage – nationwide.
Infinity Innovations Ltd are the official UK Distributors of LUX Power Systems, with hundreds of Hybrid and AC Inverters having already been installed across the UK, and where hundreds of UK homes are now benefiting from powerful hybrid battery storage and AC inverter systems, with the advantage of remote system upgrades and monitoring.
What makes LUX Power Systems the best battery storage systems in the UK?
Benefits of Hybrid Battery StorageHybrid solar systems use a hybrid inverter and rechargeable lithium ion batteries to form a hybrid solar system. No other inverter is required on the solar system. These systems are ideal for new solar installations as well as a retrofit solar inverter where the original inverter may be replaced by a hybrid inverter creating a hybrid solar system.Some of the benefits users can expect from a LUX Hybrid system are increased system efficiency, extended lifetime as a result of enhanced operation, and lower cost.
LUX Power Hybrid Inverters are designed with the following features…
Modular – from 1 to 8 Pylon Tech US2000 Plus Batteries
90% DOD
Remote Upgrading – Firmware & Parameter upgrading remotely by LUX
Real time monitoring – Free Mobile & Web portal (PC) monitoring
Advanced Power Cut Protection & Restart
Grid Share Incentive Ready
Seamless automatic switch over – 0.01s
Integrated EPS as standard – No extra cost
Smart export control on both AC & EPS output
Max Charge & discharge rate of 3600W
Max DC Input – up to 8000w
Integrated DC Isolator
10 years warranty
Lightweight – only 20Kg
Quite operating noise levels – less than 25bB
IP65 rated
On & Off grid capability
UK technical Support & training
Off Grid Battery Storage Possibilities
More and more people are now choosing to move off grid with, according to a source, over 75,000 people living in more than 25,000 off-grid homes in the UK alone, for this reason, the LUX Power Battery systems are now available to be ordered with off grid functionalities…
Naturally, there are uncertainties that will arise as part of off grid living, one of these being and inability to determine exactly how much solar energy will be generated on any given day. By nature, renewable energy generation is intermittent, and therefore the ability to store surplus energy is essential, as households are able to rely on a back-up power supply when their solar PV or other renewable systems are not active – often at night or during periods of changeable weather.
This is exactly why a reliable battery storage source can prove to be an extremely valuable, and an arguably essential component to off grid living.
Remote Upgrades and Monitoring
One of the key features of LUX Power systems is their remote upgrading and real time monitoring function, which is proving hugely valuable to those living in more remote locations.It can be difficult and costly for technical support teams to attend properties in remote areas, (including many of those living off grid), which is why the remote upgrade and monitoring feature of LUX Power Battery Storage systems is so beneficial, allowing the LUX technical support team to upgrade and monitor the battery inverters remotely via an app!
There are a host of videos relating to these features now available on the PV Pro Website.
Why the LUX?
Where in the past, battery storage systems have been known to be large, physically intrusive, overly complicated, technically complex and not always user friendly, the sophisticated design of the LUX Power has turned battery storage into a far more modular, user friendly and simple option for many homes across the UK.
With the added benefit of AC LUX systems which are compatible with ANY string inverters, optimisers and micro inverters on the UK market.Get in TouchTo learn more about the LUX Power Tek range, visit the PV PRO website or contact LUX Power here.